Audio Producer on The Jazz Fly and Jazz Fly 2: The Jungle Pachanga (books with audio)
Saluting the Co-producer of The Jazz Fly and Jazz Fly 2
Written by John Tucker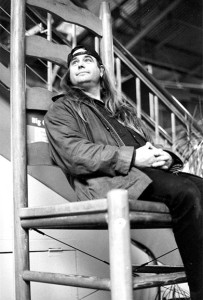 Versatile. That's the word that springs to mind for describing Tim Gennert. He's equally at home as a recording engineer, a composer, graphic artist, videographer, or web and database guru. And he brings many of these skills together for Tortuga Press. He built and maintains this web site and he engineered the sound and music for the first Jazz Fly as well as engineered and co-produced Jazz Fly 2 .
He's been a professional in the media and music business for more than 30 years. He already had a solid background in engineering audio books by the time Jazz Fly author Matthew Gollub came knocking. He has worked with Henry Selick, stop-motion director of The Nightmare Before Christmas and James and the Giant Peach, and storyteller Jim Weiss among others. He also worked for years for Audio Literature, an early leader in the audio book industry, recording many audio books.
"Matthew came to me wanting to introduce kids to jazz using this rhythmic narration," Tim said. "As engineer, my job was to translate the music into a form that would work in the story." He recorded, mixed and mastered the music and the narration for the first Jazz Fly.
Tim did the same for Jazz Fly 2 but added co-producer to his duties. "As a producer your role is really organizing the project—organizing the methodology and the technology—so you wind up with a cohesive whole," Tim said

Jazz Fly 2 presented more challenges. "Matthew had this vision of switching between swing and Latin jazz. The challenge was incorporating the elements into a cohesive, linear flow," Tim said. That involved starting with a "really good" read of the narration from Gollub before adding the musicians. Grammy-nominated Latin jazz master and percussionist John Santos was recruited to play the Latin jazz instruments featured in the story.
The success of both Jazz Flys is simple according to Tim.
"Jazz Fly 2 communicates a complex idea in a fun, integral way that kids and adults respond to," he said.
Tim is at the stage of his career where he can pick and choose many of his projects. He prefers assignments that have "integral community value that go beyond pure entertainment."
He counts the Jazz Fly books among those works. "Matthew is a good example of someone having a positive effect on the community and he has a dedication to doing this well, and that's who I am as well."
Tim boasts an impressive "tracks" record having recorded everyone from the Grateful Dead, to songwriter Tom Waits, to guitar god Michael Schenker. More recently he's mixed and mastered Jali Bakary, a musician from Gambia, Africa, who plays the kora, a traditional instrument. (Bakary is setting up a music school to teach the instrument.) He worked on electronic wizard Kitaro's last release, which was based on bells from Buddhist temples around the world. And, he's worked with the Viva Girls, an all-girl group from Beijing, China, who play popular music on traditional Asian instruments.

"The level of stuff I've been working on has been pretty high so I've been very excited," Tim said.
While Tim is a techno-wizard, he laments the way technology has made it easier for users to take shortcuts in the recording studio. "There is so much pressure to make money in the industry that you find people taking shortcuts or doing things as the manufacturer tells you how to do it. The quality of recording has gone down and the industry has devalued music because of it."
Tim is determined to change that. "Even though we've lost a certain amount of the craft, it is still important. So, I've been trying to revalue the recorded medium and work with others for whom this is an important idea, like Matthew."
Tim says that young people aspiring to a career in sound production should do three things: "practice their craft, think for themselves, and study as much as possible." Sound advice from a sound man.