Bienvenido (welcome) to Tortuga Press

We are delighted to announce that our books to the "trade" (that means bookstores, libraries, wholesalers, etc.) now are distributed by IPG (www.ipgbook.com). If you are a bookstore or wholesaler, please contact them with orders. Now for a word about us. Our plodding body types notwithstanding, we are a small but nimble independent press that has published children's books of distinction since 1997. With hundreds of thousands of books sold nationally, we thank our devoted readers and listeners. Our award-winning books, and books with audio, have won over children, parents, teachers and librarians at home–and abroad with foreign language editions. From seasoned readers to those new to reading, from pre-school children up to grades 5th and 6th, Tortuga Press book lovers find titles to cherish and savor time and again.
Tortuga means turtle en español
Naturally, we also publish books in Spanish. On this site, you will find slide shows and sound clips of our most popular titles. You will also find interviews of our talented authors and illustrators, resources for parents and teachers, and more.

Our books, distributed by IPG, are available through booksellers and wholesalers such as Ingram, Follet, Baker & Taylor, etc. We also provide books to many literacy programs, including Title I and R.I.F. (Reading is Fundamental). Accelerated Reader (A/R) quizzes are available for almost all of our titles, and in case you are looking for a personalized gift, you can order autographed books on our secure on-line server.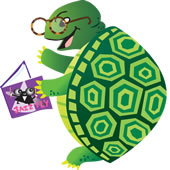 Captivating stories, some with musical narrations. Much for little hatchlings to enjoy.
Thank you for stopping by our side of the pond—and for your support of independent publishing!
–Chief Tortuga