Illustrator and Book Designer of The Jazz Fly (book with audio) and other Tortuga Press works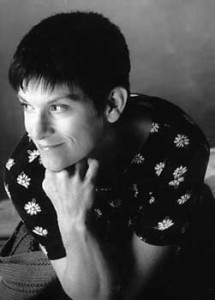 Karen knew from the time she was in kindergarten that she wanted to be an artist. An avid distance runner, she finds artistic inspiration while training for ultramarathons. She lives in Santa Rosa, California, with her husband and English bulldog and works as a freelance illustrator and designer. The Jazz Fly is her first book for children.
An Interview with Illustrator/Graphic Designer Karen Hanke
As an ultramarathon runner, you are accustomed to running for 50 miles or more. Does long distance running help your creativity?
I usually do a lot of creative thinking while running in beautiful remote places. I am also inspired by creative people.
How and when did you decide to be a graphic artist/designer? What were your career aspirations as a child?

I always wanted to be an "artist," even as a young child. After graduating from University of California, Santa Barbara with a degree in Fine Art, I got a job as a "layout/advertising illustrator" at a Bay Area newspaper. Through this job I learned the computer and also commercial design. I hated newspaper work, but realized that computer design would be a valuable asset to me combined with illustration.
What keeps you going through tough times when you feel discouraged or uninspired?
It's difficult to be self-employed sometimes. There is a degree of uncertainty about what project will be next. Sometimes there are technical and business challenges that overshadow all creative energy. Usually friends and colleagues are the ones who reassure me that my talent is valuable and worth pursuing.
Was The Jazz Fly the first book you illustrated or have you done others as well?
Yes, The Jazz Fly was the first book I've illustrated. I hope to illustrate another book again soon!
How did you make the digital illustrations for The Jazz Fly?

I draw in pencil first, like most artists do. Then I scan my sketches to use as a rough template in Adobe Illustrator, my favorite drawing program. I draw with the mouse, point by point, which I guess is somewhat rare these days since the development of drawing tablets. It can be tedious sometimes, but I like the ability to change my work if I want. Sometimes I just draw on the screen without sketching first.
Are you a fan of jazz music? What kind of research did you do in order to illustrate The Jazz Fly?
I do like jazz music very much, especially acoustic jazz. To research The Jazz Fly, I studied many jazz magazines and listened to a variety of jazz music. Also, I did extensive research on insects. I collected gnats and flies, bought books and made lots of sketches. Drawing clothes on bugs was fun. I also made lots of sketches of Matthew Gollub playing on his drum set. Then I turned him into a fly.
What were your most memorable experiences in researching & illustrating The Jazz Fly?
I was invited to exhibit my illustrations from The Jazz Fly in an art exhibit called "Not Just for Kids" in Sebastopol, CA. It was for children's book illustrators and was a very special experience. Two other very talented, experienced illustrators, Stacey Schuett and Terry Sloat were also in the show. I was the new artist with just one book which was very different from their work. Matthew Gollub was there, as well as many friends and clients. It was a great experience.
What else do you do as a graphic designer besides illustrating books?
I design and illustrate toys, games and gift products such as magnets and stationery.