Latin Percussion on Jazz Fly 2: The Jungle Pachanga (book with audio)
Master of the Percussion Mix
Written by John Tucker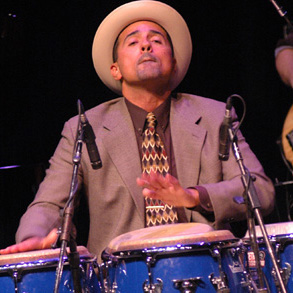 John Santos enjoys performing and speaking to children, so when author Matthew Gollub approached him about playing percussion for the Jazz Fly 2: The Jungle Pachanga audio book, he leapt at the chance.
"To be able to do a kids' project—a recording specifically for kids—is something we don't get to do every day, so I was excited just to be able to take part," John says.
The five-time Grammy nominee grew up surrounded by music, especially Latin jazz. Grandparents on both sides of his family were professional musicians and he was exposed to a steady diet of live and recorded music, much of it featuring percussion. "That sound was part of the soundtrack of my childhood, and it was attractive to me because the sound of the drums just seemed to get everybody excited," John says. "You could feel it, feel the pulse of the rhythms and the sounds of the drums that would get people fired up and make people dance and it just seemed like a lot of fun."

John brought that sense of fun to the studio for the recording of the Jazz Fly 2. He played the congas (his main instrument), claves, bongos, timbales, cowbell, maracas and even a whistle, overdubbing each instrument on top of the pre-recorded quartet.
Like a chef making a layer cake, the master percussionist started simply and added parts. "I had all those instruments there and when I went to record, I would always record a simple, very straight pattern first and (then add) the more rhythmically complex and challenging parts…so that there would be more of a solid foundation to play to." It took him about nine hours to record all the parts.
He is no stranger to the studio. He's recorded with some of the top jazz musicians in the world, and he's produced dozens of albums of original music on his own music label. He describes the challenges of producing music independently as mainly financial but says they are outweighed by the rewards. "You get to document your own art and your own artistic evolution in the way that you want and you leave a legacy that you can be satisfied with," John says.

Although his music is often described as Afro-Latin jazz, John generally dislikes genre titles. "They (the titles) don't serve much purpose other than to determine what bins to put them in a record store for sales purposes." He strives to get audiences to see the music as universal. "The music is what allows us to communicate, something that people have in common all over the world, and it doesn't matter what you call it."
Not surprisingly, John, who is father to a four-year-old boy and a six-year-old girl, is an advocate of a strong arts curriculum in the schools. "I would highly encourage any and every family to fight for music for their children in the schools and libraries and make sure that their local representatives are aware of the importance and the urgency of having arts be a part of education, part of the environment in any community."
He makes an impassioned plea to all who will listen to join him in a fight against the National Academy of Recording Arts and Sciences (NARAS), the body that determines the Grammy Awards. Last April, NARAS officials eliminated 31 mostly non-commercial categories from Grammy consideration. The categories include Latin jazz, Cajun, Zydeco, contemporary jazz, Hawaiian, Native American, some categories of blues and rhythm and blues and many others. "It's some of the most important roots music in our country," says John. He has been a member of NARAS for 25 years. He points out that the majority of the eliminated categories represents music from communities of color. "It sends a horrible message to them that the roots music from these communities is not valuable." The protesters launched a web site, grammywatch.org, to organize efforts to get the eliminated categories reinstated.
John enjoys playing and talking about music for all ages, but he holds a special place in his heart for children's audiences. "In its own way, it's probably the most gratifying thing we do because children always bring a very special atmosphere; their own brand of frankness and innocence. The sorts of questions they ask and the reactions that they display; it's always very refreshing and a lot of fun."